Compact and Convenient – Viva la Revolution!
Traditional landing nets are long and wide and clumsy – tough to stow in any boat or vehicle. But Tournament Series Precision Landing Nets™ can be telescoped and folded into a convenient, stowable size.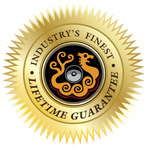 Did you say versatility? Hoop sizes range from a handy 14″ X 18″ to a greedy 36″ x 38″ – among the largest you can find. The smallest net extends to 38″ and the largest to 10 feet!
And our lifetime repair or replace warranty makes the Tournament Series Precision Landing Nets™ one of the safest buys and best values in fishing.
Need instructions for operating your StowMaster landing net? (You'll need Adobe Reader to view the document.)
Provide the ultimate protection for your catch!
StowMaster's new Guardian™ netting utilizes a proprietary manufacturing process to treat the net mesh with a special elastomeric rubberized coating. The result is a knotless fish friendly mesh that provides the superior protection and anti-fouling/hooking performance of a full rubber net at a mere fraction of the weight. Extra strong multi-braid nylon inner core provides exceptional strength and durability versus traditional netting. Lightweight design sweeps effortlessly through the water. Available in 3/8" micro mesh and 3/4" macro mesh sizes.
Built tough. But with a gentle side.
When you're Muskie fishing in the north woods, or Salmon fishing in Alaska, you can't take a chance on a weak net. StowMaster landing nets aren't just constructed, they're engineered. Engineered so uniquely, we even hold a patent (patent #5,533,293).
Hoop frames and net handles are made from an aircraft-quality aluminum alloy that's both light and strong. Net handles are designed not to slip or twist when you're extending them – meaning the locking pin finds its home every time.
Every part is crafted with incredible precision – down to the 1/10,000th of an inch. In fact, all Tournament Series Precision Landing Nets™ have a lifetime guarantee against breakage.
Finally, our specially designed rubber-dipped nylon nets are gentler on the fish's protective coating – perfect for catch and release.